05/03/23 11:32
QR codes have become an increasingly popular way to share information quickly and easily, particularly in situations where it may be difficult or impractical to exchange information using more traditional methods such as email or physical business cards.
Creating a QR code for a contact that includes their vCard information is particularly useful because it allows the recipient to easily import the contact information directly into their address book or contact management system. This can save time and reduce the likelihood of errors or typos when manually entering contact information.
QR codes can also be used in a variety of contexts, from personal networking to professional events, to facilitate the exchange of information with potential clients, partners, or colleagues. They can be printed on business cards, displayed on websites, or shared via email or social media, making it easy to distribute contact information quickly and efficiently.
Using QR Factory 3, it's incredibly easy to create them and even include multiple emails, phone numbers, postal addresses and social profiles. It supports adding in all the fields one at a time, or using an existing contact that's already in the system (either macOS or iPadOS).
In addition, it has many other common types of QR codes templates built-in, along with the option to create multiple codes using a simple CSV file.
Download QR Factory 3
from the App Store today for either macOS or iPadOS and enjoy all the features for free for 7 days.
05/03/23 11:25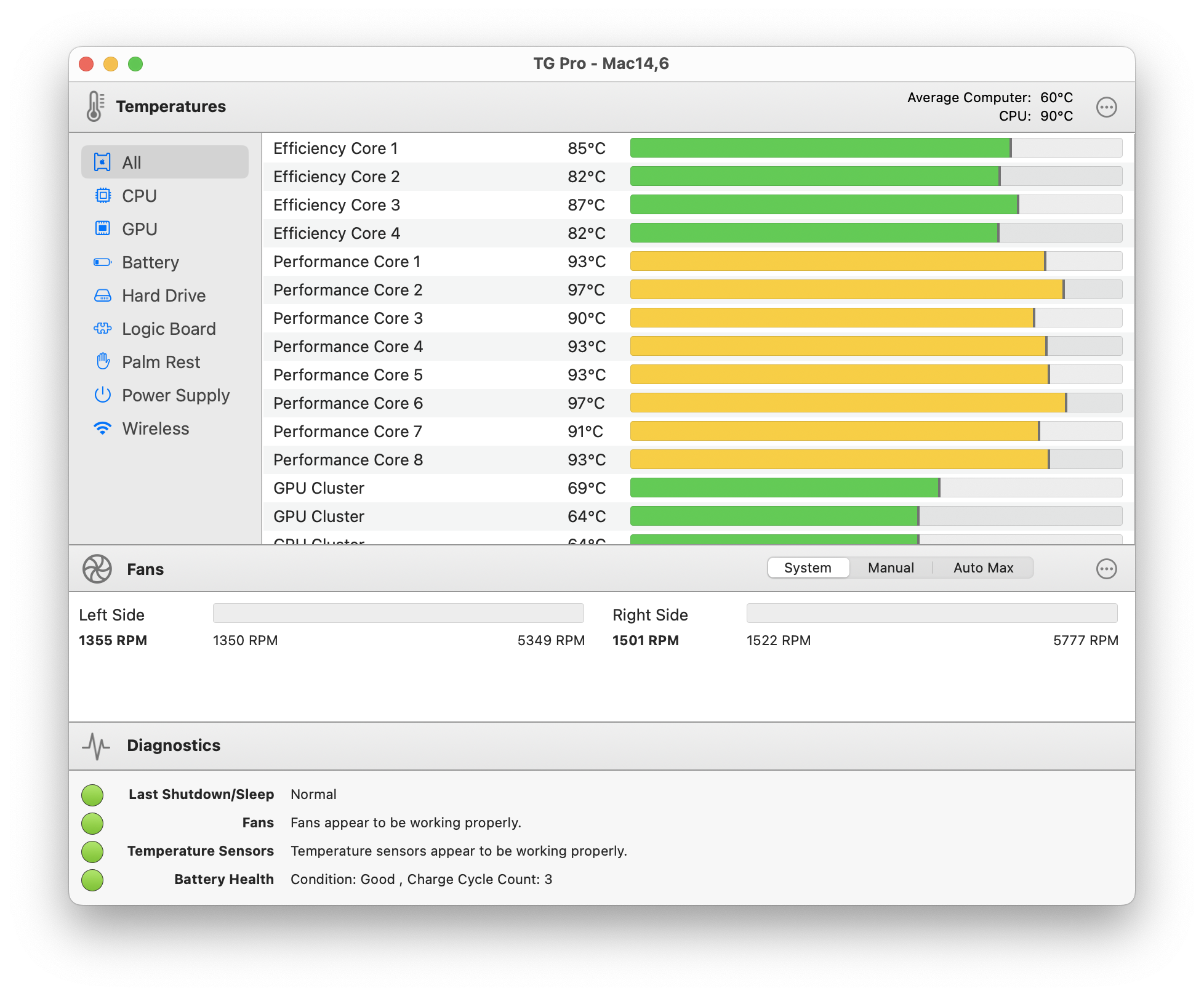 We're pleased to announce that TG Pro 2.78 now has full support for the
M2 Pro
&
M2 Max
chips in the new
MacBook Pro
and
Mac mini
!
This includes all the CPU/GPU configurations available for:
MacBook Pro 16-inch (Mac14,6, Mac14,10)
MacBook Pro 14-inch (Mac14,5, Mac14,9)
Mac mini (Mac14,3, Mac14,12)
This was a tricky one since the new models have a slightly different way of exposing the temperatures and they also do not report valid numbers if the CPU usage is low. We were able to find a way around this and it will continuously update the temperatures just like every other Mac.
It incorporates as many temperature sensors as we were able to discover in each model along with full fan control. We'll work to increase the list if we find any new sensors that map to known hardware.
It also includes minor fixes and improvements from the last few updates covering the connection to the fan helper, better logic for getting the last shutdown reason, an informational message when enabling drive temperature monitoring and more. The full list of changes for each version is available in the release notes page.
Download TG Pro
today and enjoy a free 14 day demo and see why thousands of people love and trust this amazing Mac utility!