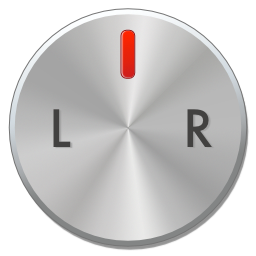 Keep your Mac audio centred
Prevent left/right drift when plugging and unplugging headphones or other audio devices.
No credit card, email or personal information needed.
Requires macOS 10.10 or higher.
Headphones a little off? Noticing your audio isn't quite centred? Enter Balance Lock - it will keep your audio centred and prevent left/right drift.

It's the perfect utility for making sure when plugging and unplugging headphones that the audio stays centred. It was designed out of frustration of the long standing OS X bug where the audio balance can randomly move away from the center.

It's simple to use and runs in the background un-intrusively.

Download the free 10 day trial with full functionality to try out these fantastic features.
Balance Lock will keep the audio balanced in the middle so you don't have to worry about checking the System Preferences every time you plug or unplug your headphones.
It runs in the background and wakes up only when the audio balance changes. So there's no excessive CPU usage or slow downs.

Get an optional notification when Balance Lock restores the audio balance to the center after detecting that it has drifted to the left or the right.


Balance Lock includes simple to use preferences so you can adjust it to the way you like.

A simple to use status menu is always available from the menu bar. So you can easily turn it on/off, send some feedback, change the preferences or quit.
Click here to see what's changed in Balance Lock 1.0.5 (April 10, 2018) and previous versions
Version 1.0.5 Changes:
[Fixed] Issue where a window might have shown briefly when launching on login.
[Fixed] Issue where the on/off control would be cutoff on macOS 10.13.
Version 1.0.4 Changes:
[Fixed] Issue where the app would activate unnecessarily on startup.
[Fixed] Issue where the rate app dialog would not work properly. We've removed it completely.
[New] Multiple balance fixed notifications are now shown as one for a period of 10 seconds. This helps fix the issue where a lot of them can be displayed at once in certain situations (ex: BoomAudio).
Version 1.0.3 Changes:
[Fixed] Issue where the app would incorrectly show the rate dialog more than once.
[Improved] Updated the Paddle framework which resolves some issues when purchasing a license in-app.
Version 1.0.2 Changes:
[Fixed] Issue where the app would show briefly when opening on login.
[Fixed] Issue where the Off/On control in the status menu wouldn't look correct in dark mode.
Version 1.0.1 Changes:
[Fixed] Issue where the app would come to the foreground when fixing the audio balance.
Our order process is conducted by our online reseller Paddle.com. Paddle.com is the Merchant of Record for all our orders. Paddle provides all customer service inquiries and handles returns.
Tunabelly Software Inc. is a Canadian software development company.
Specialize in making amazing Mac, Apple TV and iOS apps.