Keep track of upcoming bills + notifications. Syncs with multiple Macs through iCloud or Dropbox.
No credit card, email or personal information needed.
Requires macOS 10.11+ (includes 10.13 High Sierra)
Bill Boss is a powerful yet simple app for keeping track of upcoming (and overdue) bills, payment history and notes. Imagine being able to easily see all the bills that need to be paid this month along with a total amount - an amazing tool for budgeting. Get notifications on your Mac when a bill payment is upcoming, or if there are past bills that are overdue. Give it a try right now with a quick download of the 30 day free trial.

It even syncs with iCloud or Dropbox so no matter which Mac you're on, your bills & payments are there. Add a bill at home, go to work and see it there. With an iOS companion app coming soon, it's the ultimate bill keeping system.

Download the full featured 30 day trial now! No credit card details, email or personal information needed.
Quickly see all your bills, with the due dates, amounts and the option to mark them paid. It also includes a handy monthly total.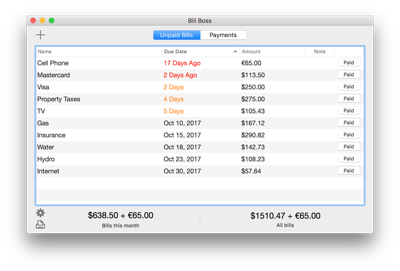 Notifications for overdue and upcoming bills. Never miss another bill payment!
View your payment history or double-check when you paid a bill. Add a handy note (ex: online payment or reference number) or export them as a CSV file.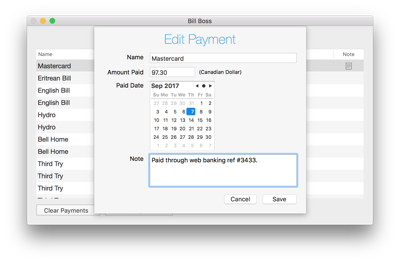 A handy menubar icon gives a quick list of the bills divided by Overdue, Upcoming and Future. It also provides a way to show the main window, preferences and more.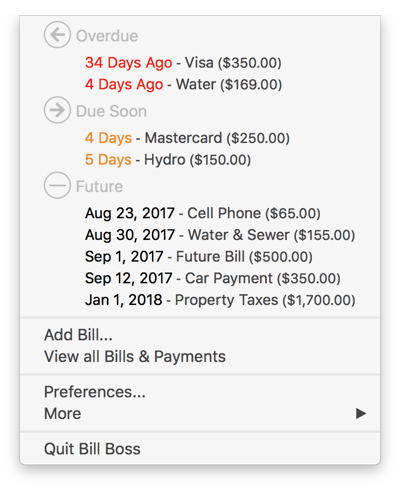 Bills, payments and notes are all synced with iCloud or Dropbox so they are always available on all your Macs.
Add an unlimited number of bills while choosing the name, amount, date due, frequency, currency and notes.

Frequency can be anything from once to annually and everything in-between.
Click here to see what's changed in Bill Boss 1.1.4 (September 25, 2017) and previous versions
Version 1.1.4 Changes:
[New] Support for macOS 10.13 (High Sierra).
[New] Confirmation dialog is now shown when choosing to remove old payments.
[New] Using standard macOS segmented control for switching betweeen bills and payments.
[New] Updated Paddle framework to resolve multiple issues within it.
[Fixed] Crash editing or paying a bill if iCloud syncing was turned on but not available.
[Fixed] Issue where it was possible to have more than two decimal places for the bill totals.
[Fixed] Issue where "syncing" label would show when cloud syncing was turned off.
Version 1.1.3 Changes:
[New] Improved reliability of the next due date for all reoccurring bills.
[Fixed] Future bills not displaying properly in the menu when using system dark mode.
[Fixed] Potential crash when paying a bill if the due date and frequency were a specific combination.
Version 1.1.2 Changes:
[New] Added support for multiple currencies, including in the all and monthly totals.
[New] Added support for printing the list of bills from the app.
[New] Added currency used when editing payments and paying bills.
[New] Updated the main window so there's more space for the totals.
[Fixed] Issue where bills were due on the last day of the month may not have been included in the monthly total.
[Fixed] Issue where the main window would always show on app launch (annoying after a system restart).
[Fixed] Issue where the prompt to log into Dropbox wouldn't always work on app launch.
[Fixed] Issue where periodic syncing would never complete if the previous attempt failed.
Version 1.1 Changes:
[New] Added ability to edit payments by double clicking on them.
[New] Added ability to delete multiple bills at once (instead of one by one).
[New] Added experimental Dropbox support for cloud syncing.
[New] Added option to turn off cloud syncing completely so everything stays local.
[New] Added note column for bills to easily see which ones have them.
[New] Note column icon is now only shown for bills & payments that actually have one.
[Fixed] Issue with delay in updating changes to the bill list if the cloud sync was slow.
[Fixed] Issue with potential crash if the company name was empty.
[Fixed] Issue where bills & payments might not have shown up right away after syncing on a new Mac.
Version 1.0 Changes:
Our order process is conducted by our online reseller Paddle.com. Paddle.com is the Merchant of Record for all our orders. Paddle provides all customer service inquiries and handles returns.
Tunabelly Software Inc. is a Canadian software development company.
Specialize in making amazing macOS, tvOS and iOS apps.