Requires macOS 10.10 or higher
Eliminate mistakes reading letters and numbers by using clear, phonetic words from the NATO spelling alphabet. Download Spelling Alphabet to learn them, which is now free and no in-app purchases. Just enjoy, it's on us!

For example, "TUNA" becomes "Tango Uniform November Alpha". Spelling Alphabet includes all letters and numbers according to the NATO phonetic alphabet.

It's the easiest tool to have for speaking hard to understand serial numbers, email addresses or whatever over the phone. Think about all the times when the other person is asking, was that a 'B' or a 'D'? Now it's simple to say, "B as in Bravo" or "D as in Delta". It can even speak all the phonetic words for you to make it even easier.

Spelling Alphabet runs in the background un-intrusively and is always available with just a click.

It is also fully compatible with macOS 10.14 Mojave including support for the system Dark Mode.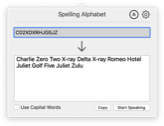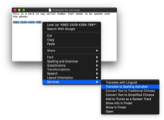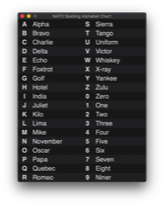 Had to call a support centre with product codes and this app made communicating with them so EASY.

Mac App Store Review from Craig Caldwell
Very handy program to have in your dock when quoting serial numbers, postal codes, etc. over the phone.

Mac App Store Review from yflyer
Translate any English letter or number into a clear and easy to speak word based on the NATO spelling alphabet.
Runs in the background with just a menu icon plus a Services menu item (that includes a global hotkey) to quickly translate text like a serial number from any app.
It can even speak all the phonetic words aloud that make up the letters and numbers, to make it easier.
Some of the words can be customized with region specific preferences.
Tunabelly Software is a Canadian software development company.
Specialize in making amazing macOS, tvOS and iOS apps.