Keep track of upcoming bills along with payments. Syncs with multiple Macs through iCloud.
Requires macOS 10.11 or higher.
Bill Boss is a powerful yet simple app for keeping track of upcoming (and overdue) bills, payment history and notes. Imagine being able to easily see all the bills that need to be paid this month along with a total amount - an amazing tool for budgeting. Get notifications on your Mac when a bill payment is upcoming, or if there are past bills that are overdue. Give it a try right now with a quick download of the 30 day free trial.

It even syncs with iCloud so no matter which Mac you're on, your bills & payments are there. Add a bill at home, go to work and see it there. With an iOS companion app coming soon, it's the ultimate bill keeping system.

Download the full featured 30 day trial now! No credit card details, email or personal information needed.
Quickly see all your bills, with the due dates, amounts and the option to mark them paid. It also includes a handy monthly total.
Notifications for overdue and upcoming bills. Never miss another bill payment!
View your payment history or double-check when you paid a bill. Add a handy note (ex: online payment or reference number) or export them as a CSV file.
A handy menubar icon gives a quick list of the bills divided by Overdue, Upcoming and Future. It also provides a way to show the main window, preferences and more.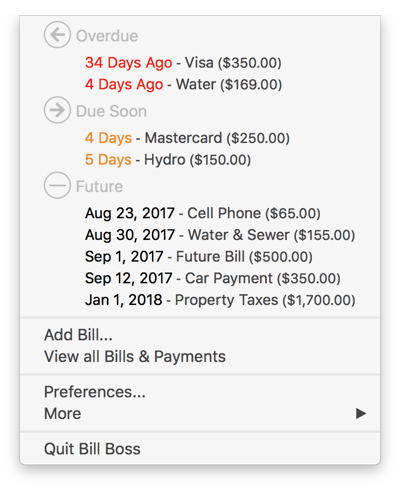 Bills, payments and notes are all synced with iCloud so they are always available on all your Macs.
Add an unlimited number of bills while choosing the name, amount, date due, frequency, currency and notes.

Frequency can be anything from once to annually and everything in-between.
Click here to see what's changed in Bill Boss 1.0 (August 4, 2017) and previous versions
Tunabelly Software Inc. is a Canadian software development company.
Specialize in making amazing macOS, tvOS and iOS apps.