A simple, yet powerful Hex Editor & file modifier.
Compatible with Mac OS X 10.9 - 10.10 (Yosemite)
File Details is the one app you need for modifying files - whether it's changing a modified or created date, checking a hash (like MD5 or SHA1), or diving it and editing it byte-by-byte with the included hex editor.

File Details includes a powerful hex editor that's also easy to use. Edit a single byte, or as many as you'd like. Need to edit a particular offset? No worries, it can do that too.

It's also great for viewing the contents of a file. Check if a file is really a PDF by looking at the first few bytes, or just look through it out of curiosity.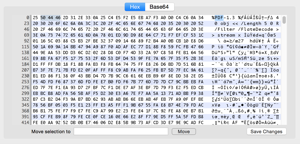 One of the best features is the ability to change a file's created and modified dates. Sometimes these get messed up and there's no easy way to update them in Finder. Using File Details, it's super easy - use the graphical calendar or type in the date.


Displays MD5, SHA1 and SHA256 hashes of the file. Plus handy copy-to-clipboard buttons for easy copying into wherever you need them.

Use it to verify that a file hasn't been tampered with by comparing it to a known good hash.

Need to encode a file in Base64? Yep, you can do that too. It's super handy when embedding binary data in a webpage or even an app. Save the encoded version to a file, or copy it to the clipboard.

Open multiple files in File Details at once. This can be very handy when it's necessary to compare similar files.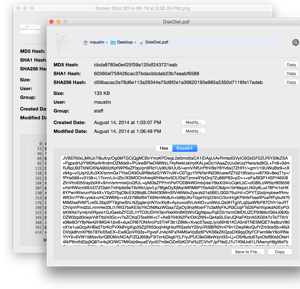 Quickly open a file by choosing "Open in File Details" from the Services menu. Works from either the Finder application menu, or by right clicking on a file.
Tunabelly Software Inc. is a Canadian software development company.
Specialize in making amazing macOS, tvOS and iOS apps.